Containarized Package Sewage Treatment
Domestic wastewater treatment plants, which require expertise and investment, are not feasible to invest in low population settlements. Package biological wastewater treatment plant can be used where there are 1000 people or less. Package type wastewater treatment plants are manufactured and installed in our workshop and only inlet outlet water connections are made to the site.
All kinds of blowers, diffusers, electric panels and dosing equipments required for treatment will be in locked rooms in the package type treatment plant. Activates sludge process is the main priciple of it and also Nitrogen can treat in this system. Package treatment system does not need labour force because of its level and time setting.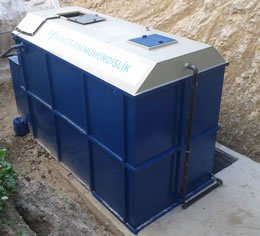 Package type biological treatment plant is produced and marketed by Aykosan Engineering Wastewater Treatment with AYPE brand.
AYPE package treatment systems is frequently prefer in places where;

villages and towns,
hotels,
holiday villages,
mining and construction sites,
recreational facilities,
Camps,
villas and so on.
Compact sewage treatment plant is an aerobic biological wastewater treatment plant working with SBR activated sludge theory. Compact sewage treatment plant also known as Package Sewage Treatment Plant is a complete solution for purification of domestic wastewater originating from small communities, up to 1.000 cap. population as a single stream unit. Also it is easy to add multiple unit modules to increase the capacity of the plant up to 10.000 people.
Aykosan's AYPE compact sewage treatment plants include wastewater pumps, blower, diffusers, chlorine dosage system and automatic electrical panel.
Compact Sewage Treatment Plant Models
Model

Population
(cap)

Capacity
(m3/day)

Lenght
(m)
Width
(m)
Height
(m)
Meterial
AYPE050
50
10
3,50
2,00
2,50
PE or Carbon Steeel
AYPE100
100
20
4,00
2,00
2,50
PE or Carbon Steeel
AYPE200
200
40
5,00
2,00
2,50
Carbon Steeel
AYPE400
400
80
8,00
2,00
2,50
Carbon Steeel
AYPE500
500
100
8,00
2,25
2,80
Carbon Steeel
AYPE750
750
150
10,00
2,25
2,80
Carbon Steeel
AYPE1000
1000
200
13,00
2,25
2,80
Carbon Steeel